Nine days, 920 miles and one Guinness World Record- all in the name of fundraising!
On Thursday 3rd September, seven cyclists began the "epic journey" from Land's End to John O'Groats.
Known as 'LeJoggers', John, Paul, Kevin, Carl, Chris, Chris M and Alan Taylor C, decided to take on the famous challenge to raise £5,000 for Brian House and Rosemere Cancer Foundation.
Despite just six months training under their belts (or in Kevin's case, two!) the men set out with the aim to complete the 920 mile route in just nine days. No mean feat for anyone.
"One of the hardest parts was Eccleston to Penrith. The heavens opened as we went through Broughton and it didn't stop until we got to Kendal. It was still raining a bit on the ride over Shap, which was also one of the hardest climbs," says Kevin.
Perseverance and determination paid off though, with the team reaching the iconic finishing point on Friday 11th September. What's more, LeJoggers smashed their £5,000 fundraising target by nearly £700 thanks to many generous donations.
So how do you stay motivated when you're cycling over 100 miles a day, climbing to over 45,000ft of elevation and coming up against bad weather?  "Knowing you're riding for two good causes and getting support from people."
"We met some really nice people along the way too, especially when we were in Tenby Wells. The Fountain Inn where we were staying took our donation bucket round the restaurant for people to make contributions to, and also gave us a cheque for £100!"
Both charities hold special places in the teams' hearts, with Rosemere and Trinity caring for friends and family members.
Kevin said: "My father in law passed away in Trinity in 2018 and I learned then what great work they do. I also became aware of Brian House as a result, and realised that it was another worthy charity to ride for."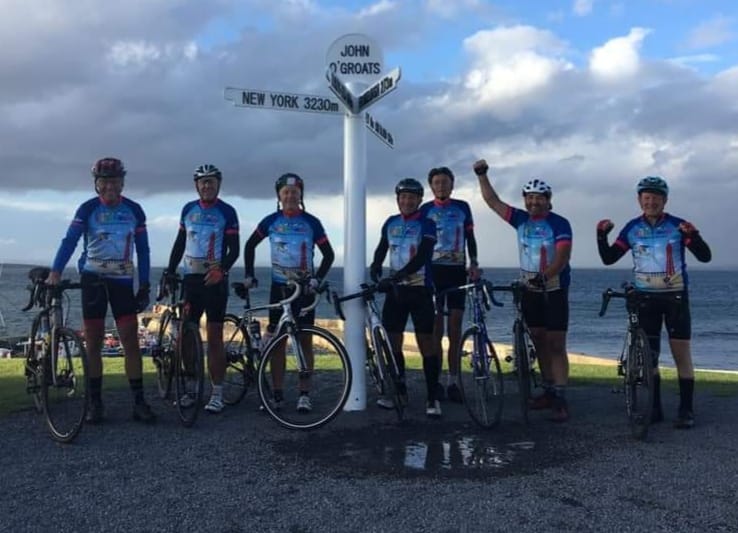 As well as completing the mammoth bike ride and raising well over their target, the team have also set a new World Record. John Collier is now the oldest person to achieve Land's End to John O'Groats in nine days!
"The whole experience was so enjoyable and one we'll never forget."
"Not only did we get to ride for two deserving organisations, but met lots of people along the way and visited parts of the country some of us had never been to."
You can watch the LeJoggers vlog at: https://www.youtube.com/user/2wheelsonline/featured
If you would like to make a donation, click here. Proceeds will be split between Brian House and Rosemere Cancer Foundation