NEW Supporter Bracelets for Sale
15th May 2013
Please show your support by purchasing one of our new Brian House bracelets – two versions are available at just £5
each.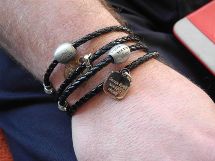 We are proud to announce the sale of our new Brian House Children's Hospice supporter bracelets, which are available to
purchase at £5 each online here or by calling the
Fundraising team on 01253 359362.
There are two designs available (pewter-look bead or metallic charm) in sizes small and large, with  a magnetic
fastening. Suitable for men, women and young adults, each bracelet is engraved with the words 'Some lives are
too short' in recognition of the work we do with children and young adults living with life limiting
illness in Blackpool, Fylde and Wyre.
Trinity Hospice Patron Alfie Boe was the first person to take delivery of a 'Some lives are too short' bracelet:
please wear yours today to support the work of Brian House, YOUR local children's hospice.
Please click here to order your bracelet(s)
online today